Premium Roofing Services
Metal Roof Installation
Metal Roof gives your house a new look with more durability and longevity.
$500 Off
Roofing
Free Estimate
Metal Roof
Skilled

Contractor

PowerRoofr provides complete metal roof installation with exceptional customer service and expert craftsmanship. The roof acts as a shelter and safeguards your home from external elements. A well-maintained and properly installed roof provides comfort, peace of mind, and energy efficacy. Therefore it is important that the roofing material you select must be durable and metal roofing is preferred by Washington D.C. homeowners.

Hiring PowerRoofr for metal/tin roofing ensures superior roof installation within the time frame and budget. Our team realizes the importance of finishing the task perfectly in the first place. To achieve this our experts give attention to every step involved in the installation process. We also keep our customers updated during the whole process to witness the our perfection and expertise.
Why
PowerRoofr

For Metal Roof?
Metal or tin roofing is known for its extraordinary strength and can withstand environmental impairment. Its long life with less maintenance makes it preferable for homeowners. It is the best choice for homeowners who do not want to do regular repairs and maintenance yet cannot compromise on the quality and durability of their roofs. Metal roof perfectly complements your exterior designs, making them more appealing and attractive.
PowerRoofr is a name of commitment, proficient skills, and professionalism. Metal Roof installed by PowerRoofr has become more durable because of the material we used in our roofing. Our superior quality thick gauge roofing sheets have more strength thus making them lifelong showing fewer signs of depreciation. Our leading manufacturers promises highly innovative and technically aspiring product to their customer guaranteeing the best outcome for their investments.
PowerRoofr Metal Roofing Contractors combine durability with tremendous insulation. Metal roof reflects heat keeping the HVAC system of your house in good working condition. Our properly fixed & insulated metal roof lowers the energy bill.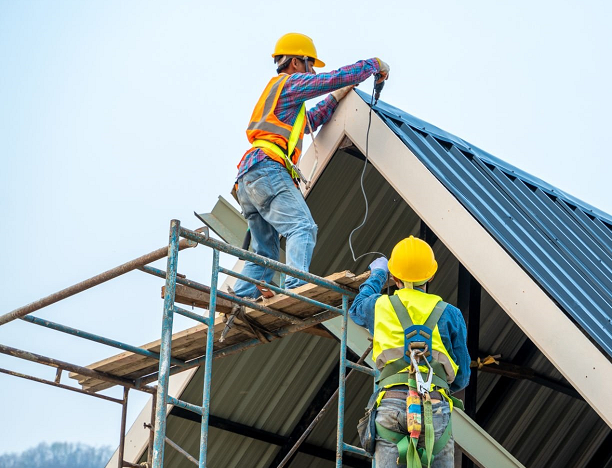 With PowerRoofr metal roofing services, you will receive 100% assurance of being safe under your roof despite bad weather conditions, and enjoying stress-free time with your family.
Get Your Roof
Connected

With Us
We deliver what we say. Get hands-on information about our services by contacting us. Call 703-6348544 or fill out our inquiry form. Our team will contact you and schedule an appointment.
Best

Roof Products Paired With

Exception

Craftmanship
When it comes to roofing material, PowerRoofr works with top-notch innovative manufacturers like GAF and CertainTeed. Their products are the benchmark for durability, weather resistance, best-in-call warranties, and exceptional customer service. Our installation team is fully trained in all the roofing products and manufacturers. We provide total protection roofing systems for years to come.
Multi Layered Roofing Solution For Maximum
Efficiency
To protect the roof from ice and water damage, we use self-adhering GRACE ICE & WATER SHIELD® underlayment. GRACE is manufacturing water barriers since 1978, and we are using them at most of our jobs.