Window Latest Trends In 2023 | PowerRoofr
Building a new home is everyone's dream; remodeling an old one is like giving a new life to your home. Whether you are re-designing an old home or planning for a new one, thinking about the exterior is as important as the interior. And before starting a project looking at the window latest trends in architectural design is equally important. The color scheme of the house, its roofing material, and designs, sidings, windows, or doors all contribute to the home's overall appearance. However, choosing windows for particular types, designs, climates, and locations can significantly improve a home's curb appeal.
Windows are the most dominant feature of any home. At first glance, people always notice the windows from the outside. Window latest trends highlight the architecture and draw attention from the street by adding attention, dimension, unique elements, and color. Large glass walls or oversized windows give the feeling of grandeur. Allows more light to enter and views within the house. Homes with fewer, smaller windows offer a sense of calm and private interior. According to the latest trends, windows not only play the role of providing ventilation, but they are a part of the design. Architectures, designers, and product experts spend hours attending home shows and working on the windows and its latest trends.
Let's discuss the window latest trends in 2023 we have been witnessing in most of the home shows and recommended by experts.
Traditional Design With Modern Twist & Latest Trends
A timeless transformation of traditional window designs to a modern unique style.
In 2023 and even before that people are adopting more modern and refined design techniques. Although modern tradition has been present for some time, we are now witnessing a change in how it displays in homes. The conventional traditional look is changing throughout the construction sector and becoming more advanced and stylish. But lovers of classic and traditional windows are still there. The prime example of traditional design with a modern twist is the wood-clad vinyl windows. In these windows, the interior is made up of a wooden classic frame twisting with a more modern and stylized vinyl outer frame giving the window a more chic look outside.
Industrial Design For Rich Interior
An expensive industrial-rich interior creates a warm and alluring space.
Materials like brick, cement, or steel are traditionally used as the foundation for industrial style, and when industrial buildings are transformed, the raw architectural components are left exposed. This industrial design has combined rich colors, lavish materials, and wood tones to bring a more modern and glamorous style to the interiors. The industrial style typically has open floor plans and high ceilings which allow for large floor-to-ceiling windows. These styles of windows offer aesthetic appeal and natural light. The industrial décor typically features a spectrum of whites, greys, and blacks, as well as neutral tones of brown.
Minimalist Design For Contemporary Interiors
The serene Scandinavian design adds color, neutral textures, and natural woods.
With the fast-moving life, our homes are spaces to provide peace and harmony. The minimalistic design technique involves neutral designs with light tones and natural textures. This helps to create an airy and spacious which has a more calming effect. Scandinavian-style windows are large, unobstructed windows with clear lines and light-colored frames.
With so many factors to consider, choosing windows for your home can be a daunting task. However, it is important to remember that windows are an investment that will last for many years. By taking the time while choosing the window latest trends, you can create a home that is both comfortable and stylish.
5 Signs of Aging Roof by PowerRoofr
Your home looks beautiful if its roof is in good condition. It is an important part of the house structure as it protects the interior from changing weather conditions and keeps the home insulated. On the other hand, an aging roof creates issues like leaks, mold or algae growth and energy loss, etc. Therefore, for homeowners, it's important to have a periodic inspection of the roof. Not doing it regularly will lead to bigger problems and a bigger cost.
It is critical to keep track of when your roof shows signs of aging. Waiting too long to fix a roof that should have been replaced a long time ago can result in expensive problems. Every six months, check for indicators of aging to spot any problems before they become costly and keep your home safe.
Below are 5 signs that need to be considered.
1. Granules are Found in the Gutter

Shingles are covered with granules for more durability. If you found considerable debris in your gutters, then you should understand that your roof is getting old. Either it needs replacement or repair. If you have a new roof and noticed granules in the gutter, there's nothing to worry about. Because that's the loose part of the granules. However, if your roof is 10-15 years old and you have found a cluster of granules, that's worrisome. Ultimately the life of the shingles deteriorates quickly once it gets exposed to sunlight because of falling granules.
2. Moss or Algae Growth on the Roof
Roof exposure to rain, snow, and water is unavoidable. If it is not regularly checked it may accumulate some water. This water penetration leads to most of the problems and moss or algae growth on the roof surface is one of those. Moss and mold develop on a home's roof, causing gaps between the two shingles and accelerating the breakdown of the roof shingles. If left unchecked, this can lead to water damage and the need for a complete roof replacement.
3. Weakening of Sealant Between Shingles
As we can see from the naked eye shingles are placed over one another to keep them steady and more durable. Adhesive glue or sealant is applied between the two shingles to keep them intact. This sealant gets weakened over time. Weather conditions, like heavy rains and snow, affect its sealant strength badly which leads to broken shingles. And breaking of shingles is indeed a big sign of an aging roof which needs to be considered immediately.
4. Curling / Cracking of the Shingles
Cracked shingles, curled or cupped shingles, and missing shingles all indicate one thing – Roof Is Getting Old. The roof is exposed to weather elements and fights with them 24/7. Its deterioration is normal and requires maintenance. Despite regular maintenance, the aging roof needs to be replaced.
5. Leak in the Roof Attic
A leak in the roof is a red flag and a key sign of an aged roof. We should never ignore the water marks on the interior of the house. This means that water is seeping in through a hole or a crack and can lead to a much bigger problem.
All the above-mentioned signs of the aging roof are interlinked and must not be overlooked.
We Help You Inspecting Your Roof
Obtaining a professional examination is essential if you see any signs of damage or deterioration on your roof. You can get expert advice on whether to repair or replace your roof. PowerRoofr helps you in determining possible signs of aging your roof is showing over time.
Call us and get your roof examined by our experts. Or fill out our free estimate form.
Why Latest Wood-clad Vinyl Windows are More in Fashion
The latest wood-clad vinyl Windows has become an essential component of the house. It adds value both practically and aesthetically. They are available in different materials, styles, and shapes and are an important part of modern architecture. All windows are the best source of natural light as well as allow fresh air to come in, overall improving the ventilation of the house.
Now a days, homeowners are willing to learn about the new and latest wood-clad vinyl windows as they are more inclined toward high-quality window material with energy-efficient features. High-quality materials include aluminum, fiberglass, and vinyl but traditional wood windows are still in fashion. Homeowners still want to add the classic look of wood windows to their interiors. But for the exterior, they want more durable, hard-wearing, and less-maintained material windows which can withstand weather changes. And that is why, wood-clad vinyl windows have become the top choice for them.
What is Clad-Window?
As its name refers cladding is adding a layer of one material over another to create an outside barrier. Cladding is placed on the side of the window that faces the outside of the house. The new wood-clad vinyl windows, also known as vinyl-clad exterior windows, feature wood interiors and a vinyl outer covering. This exterior vinyl cladding increases the window's durability and longevity while providing the interior with the desirable look of real wood windows.
Wood-clad Vinyl Windows
Wood Windows are a traditional style of windows with a natural look. They are classic, and their brown color and natural texture add warmth and natural beauty to the interior of the house. They can be customized and designed according to the aesthetics of the interior.
Vinyl is the most used building material these days. Its durability and low cost make it an alternative option for most products and windows are no different. Vinyl windows are available in different colors like white, tan, grey, shades of blue, etc. Vinyl windows are not visually attractive but their durability, moisture & rust resistance, and long life make them the best option for windows.
Wood-clad Vinyl Windows has the benefits of both the materials, wood and vinyl. And thus making it the first choice of all homeowners across the USA. In these types of windows, the interior of the window is made up of wood while the window exterior is wrapped with vinyl adding a protective layer to the wood. Vinyl Cladding prevents wood from moisture, rotting, and termite damage, providing the long-lasting resilience that your daily life demands.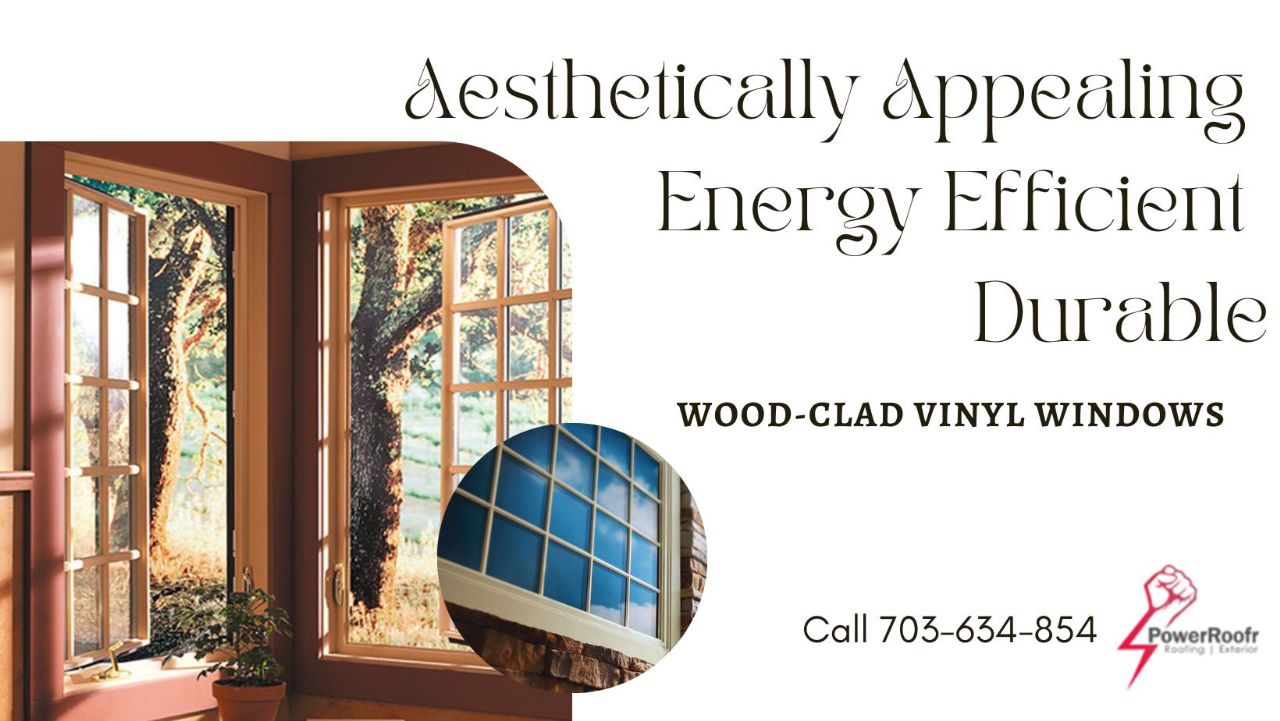 Key Features of the New Wood-clad Vinyl Windows
These modern home wood-clad vinyl windows are designed using a revolutionary technique that effortlessly combines authentic wood interiors with less-maintained vinyl exteriors. This one-of-a-kind window was created for homeowners who wish for classy wood-interior windows. Hence, appreciating the wood charm and choosing vinyl for your windows is a win-win situation because you get an attractive wood frame on the inside and a durable vinyl frame on the outside.
High Durability
Wood is a natural material that comes with its original strength and durability. But it requires care. It is also prone to rot and moisture if not maintained regularly. Considering its high maintenance cost, the latest wood-clad vinyl windows are introduced to combine the durability of both wood and vinyl. Inner window frames stay in their original condition giving a classy touch to your interiors whereas, vinyl performs best on the outside absorbing all the weather changes.
Original Wooden Inner Frames
Wooden interiors and furniture are still in fashion and appreciated by a lot of homeowners. Despite modern architecture, people still want wooden elements to add beauty to their houses, and windows with Wooden Inner Frames are one of those. The new wood-clad vinyl windows give the option to add warmth and beauty to wood in the interiors. Wooden frames can be painted but keeping them in their original color is advisable. For lighter colors, we have oak and redwood and for darker tones, we can select from cherry and mahogany.
Weather Resistant Outer Frame
Vinyl outer frames give window protection against weather elements. Vinyl frames can withstand harsh weather conditions like rain, high temperature, and UV rays. Its weatherproofing quality keeps the window free from rot and moisture.
Low Maintenance & Cost
All wooden windows are high in cost and require consistent maintenance which is tiresome for most homeowners. They are very expensive to manufacture and are being produced by fewer companies. Their upfront cost as well as installation charges are also very high. On the other hand, wood-clad vinyl windows are less costly, installation charges are affordable and readily available. They required less maintenance because of the vinyl outer frame.
Energy-Efficient Clad Window
Wood works best as an insulator. The inner wooden frame in clad windows does not allow heat to go out from the house. Thus keeping the room temperature constant and reducing energy costs. Its insulation property helps in noise reduction by limiting external noises to come in.
Aesthetically Appealing
As discussed already, the inner wooden frame of the clad window gives a traditional feel. Depending on the wood used, woodgrains and their colors give a vintage look. Whereas vinyl frames have many color options and variety to choose from. Depending on the exterior color scheme, homeowners can easily select the vinyl frames which enhance the curb appeal of the house.
Are the Latest Wood-clad Vinyl Windows the Best Option?
Considering the above key features of the latest wood-clad vinyl windows, they are the best option for those homeowners who want a low-maintenance window frame without compromising on the exceptional aesthetics of wood. This great combo of weather-resistant vinyl and the strength of the wooden frame, paired with the insulting property of both materials, has a lot more to offer.
So, are you considering wood-clad vinyl windows for your home? If your answer is YES, we are ready to assist you with your new window replacement project. PowerRoofr is the one company that provides you with a complete exterior remodeling service with top-quality service. Our window team is just one call away. Dial 703-634-8544 and get complete information.