17 Things to Consider Before Hiring a Siding Contractor
When it comes to home improvement projects, one of the most significant investments you can make is siding replacement. Whether you want to boost your home's curb appeal, enhance its energy efficiency, or protect it from the elements, new siding can make a substantial difference. However, hiring a siding contractor for this job is crucial to ensuring a successful project. To help you make an informed decision, here are 17 things to consider before hiring a siding contractor.
1. Licensing and Insurance
The professional must be licensed and insured as the first and foremost point to remember while hiring a siding contractor. A valid license is an indication that the contractor has met the necessary qualifications and adheres to local regulations. Insurance, on the other hand, protects you in case of accidents or damages during the project.
2. References and Reviews
While hiring a siding contractor, ask for references from past clients and check online reviews. This will give you an idea of their reputation and the quality of their work. Don't hesitate to contact previous customers to hear about their experiences.
3. Experience
Experience matters. Find out how long the contractor has been in business and how many projects he has completed before hiring a siding contractor. An experienced contractor is more likely to handle any challenges that may arise during the project effectively.
4. Portfolio
Review the contractor's portfolio to see examples of their past work. This will give you an idea of their style and the quality of their craftsmanship. Look for projects similar to what you have in mind for your home.
5. Warranty
Ask about the warranties offered for the siding materials and labor. A reputable contractor should stand behind their work and offer warranties that provide peace of mind for the homeowner.
6. Materials Selection
Discuss the siding materials and brands the contractor offers. There are various options, including vinyl, wood, fiber cement, and metal siding. Make sure the contractor can provide guidance on the best choice for your home.
7. Energy Efficiency
If energy efficiency is a priority for you, inquire about the contractor's knowledge of energy-efficient siding options. Properly installed and insulated siding can significantly impact your home's energy consumption.
8. Permits
Determine if the siding project requires permits from your local municipality. A professional contractor should be familiar with local building codes and be prepared to obtain the necessary permits.
9. Timeline
Ask for a detailed project timeline. Before getting hired, the siding contractor should provide an estimate of how long the project will take to complete. This will help you plan accordingly and set expectations.
10. Cleanup
Inquire about the cleanup process. A reputable contractor should leave your property in the same or better condition than they found it. This includes disposing of old materials and debris.
11. Communication
Effective communication is key to a successful project. Ensure that the contractor is responsive to your questions and concerns and that you have a clear line of communication throughout the project.
12. Cost Estimate
Get a detailed written estimate that includes the cost of materials, labor, permits, and any potential additional expenses. Be wary of contractors who provide vague or incomplete estimates.
13. Payment Schedule
Discuss the payment schedule with the contractor. It's common for contractors to request a deposit upfront, but be cautious of those who demand a large sum before any work begins.
14. Subcontractors
Find out if the contractor uses subcontractors for any part of the project. If so, ensure that the subcontractors are also licensed and insured.
15. Local Knowledge
A contractor with local knowledge is more likely to understand the specific weather conditions and environmental factors that may affect your siding. They can make recommendations accordingly.
16. Design Assistance
If you're looking for a specific siding design or have unique requirements, discuss whether the contractor can provide design assistance. Some contractors offer design services to help you achieve your vision.
17. Trust Your Instincts
Lastly, trust your instincts. If you feel uncomfortable with a contractor or have doubts about their capabilities, it's better to explore other options. You should feel confident in your choice.
In conclusion, hiring a siding contractor with sufficient experience is essential for a successful home improvement project. Consider these 17 factors before making your decision. With the right contractor, you can enhance your home's aesthetics, energy efficiency, and protection from the elements, ensuring a long-lasting and beautiful investment in your property.
Find A Best Fiber Cement Siding Contractor in NOVA
Want to have new fiber cement siding to give your home a new look? Looking for a reliable fiber cement siding contractor in NOVA to do this job professionally? Well, before answering these questions and planning a siding replacement, one should look for a good siding contractor with the necessary experience. Though this is a tough job and your project success wholly depends on it, you would search for local fiber cement siding contractors near you.
Why The Best Fiber Cement Siding Contractor Is Important?
Replacing fiber cement siding of the house is a big project in terms of money, time, and effort. Improper installation can result in water damage to the siding panels, leading to structural damage, mold and algae growth, water penetration, and increased utility bills. Sidings should be properly installed with all the prerequisites to avoid the above, withstand climate changes, and give your home exterior a modish look.
Therefore, when you put so much effort and hard-earned money into it, you don't want to be fooled by the less competent contractor. You must be sure that the fiber cement siding contractor you have chosen is professional, efficient, capable, and experienced.
For your ease, we have listed down some qualities/tips you must consider while selecting the best fiber cement siding contractor in NOVA.
Qualities A Fiber Cement Siding Contractor Must Have
How Do You Know If a Siding Contractor Is Good? Consider the below points before finalizing the deal.

1. Specialized
 When looking for a siding contractor, first check the person you choose has experience with siding. You don't want a handyman who performs landscaping one day, driveway paving the next day and power washing the following day. You need a professional. By choosing a specialized fiber cement siding contractor, you can be sure that they are experts in the industry, will complete the project timely, and can handle potential issues.
2. Insured
 Uninsured contractors may seem attractive because of their lower quotation. But this might get you in trouble if any mishap occurred at the project site. Property owners end up bearing all the burden of it if the siding contractor is uninsured. Therefore, always look for an insured siding contractor before hiring them. Make sure that the contractor gives you proof of liability, compensation, and property damage coverage. A reliable contractor will be able to give you information about their insurance. Also, keep in mind the expiration date of the insurance policy, so double-check that the coverage is valid. 
3. Licensed
A certified & licensed siding contractor is a must. Industry-renowned siding replacement contractors must have the necessary licensing and insurance. A license is a clear sign of the credibility and expertise of any siding contractor. A license demonstrates that the siding contractor is familiar with regulations and procedures, lowering the possibility that homeowners may have to overpay for improper work. Additionally, a licensed contractor will be able to provide guarantees for the products they use, as well as their labor. 
4. Referrals & Reviews
 Finding a contractor with genuine references, reviews, and completed projects is important. Online resources can tell you a lot about the ranking of siding contractors. Simply enter "best fiber cement siding contractor in NOVA" in any search engine and you will get a list of siding contractors near your area. On independent review sites like Google Reviews, you will find feedback from their previous clients. A siding contractor who is in the industry for a longer period must have gathered more references. Try to ask your neighborhoods, family & friends, property, and homeowner associations for a reliable siding contractor.
5. Transparency
At the time of the meeting, you will get a clear idea of how transparent the working process of the contractor is. A professional fiber cement siding contractor must inform you beforehand about every step of the project, a cost breakdown (material cost, labor cost, etc), estimated project completion date (start and end dates), material warranty, permits if required, and insurance (property damage, labor insurance) & license (to work in the area) it has. A trustworthy contractor will not be reluctant in sharing its previous project site, which clearly shows the experience and confidence the contractor has in its work and team.
Can you Install James Hardie Fiber Cement Siding?
This is the question you need to ask your siding contractor first.
James Hardie Fiber Cement Siding is indeed the best choice. For so many years it has been in the industry and known because of its superb quality and performance. To know more about click
Why James Hardie is Preferable for Sidings?
After reading this you would have an idea of the important points to need to look for before hiring the best fiber cement siding contractor in NOVA. Do not compromise on the professionalism and experience of the contractor as it will harm your pocket and ultimately the performance of the siding.
PowerRoofr is the trusted siding contractor, who has experience in installing James Hardie premium sidings with all the technicalities involved. Get complete information about our siding services by calling us at 703-6348544. You can also get a free estimate by filling out our inquiry form.
Why James Hardie Siding is Preferable?
James Hardie is a well-known fiber cement siding manufacturer and is the No. 1 choice for contractors. James Hardie sidings give various benefits to homeowners, whether it's product durability or styling, long warranties, or safety mechanism, it has the best to offer.
Here are a few points which make it preferable among others.
Withstand Moisture
Sidings are exposed to Mother Nature and prone to environmental damage than any other part of the home. Natural events like rain, hail storm, or snow can be the main reason for sidings to swell, lose paint and crack. Therefore, do not allow moisture to penetrate and harm the curb appeal of your home. James Hardie has been a savior for many homeowners across the USA by providing well-engineered fiber cement sidings. Its fiber cement sidings withstand moisture and hold their original shape, color, and texture despite rain, sleet, and hailstorm.
Durability of Siding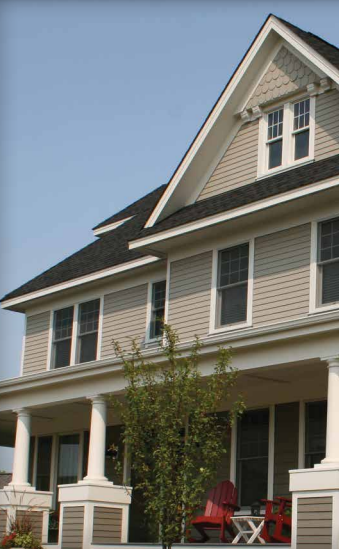 When selecting construction materials, the durability of any product comes first. James Hardie has proved over time that its fiber cement siding is the sturdiest among its competitors. Homeowners prefer these outstanding sidings because they withstand weather conditions, are not vulnerable to peeling and rotting, and are long-lasting. With years of research and study, James Hardie has developed a product that is suitable to any specific climate and its ColorPlus Technology would keep your home siding bright and fresh as ever.
Fire Resistant Sidings
Your home safety comes first. James Hardie is the first choice of the contractors because of the non-combustible property of its products.  Since vinyl and wood sidings can catch fire easily, fiber cement sidings are fire-resistant and will not burn. So for all the homeowners who have a fireplace at home or live in a place that is more prone to wildfires, James Hardie siding products are life-saving investments. Because of its non-combustible quality and ASTM rating, it can lower your insurance expense as well.
Aesthetically Appealing
Believe it or not, James Hardie has a wide range of color schemes and styles to choose from to upgrade your home exterior. Its product portfolio shows the creativity that is unmatchable by the competitors. For homeowners who want a vintage house exterior but do not compromise on durability, Hardie Plank Lap Siding can be the best option to mimic wood. Installing James Hardie in your homes not only enhances the curb appeal but also raises the resale value of the house.
Warranty
Almost 30 years of warranty is no joke. James Hardie's durability, extensive technical advancement, and continuous product improvement will make them fear less to give a long time warranty. This gives peace of mind to homeowners that they would not have to bear extra maintenance charges over the years, which is also the added benefit of using James Hardie Siding in your homes. However, they offer different warranties for specialty products.
Various construction magazines and publications backed James Hardie and so do we. Our expert team is fully trained to install James Hardie products with exact precision and accuracy. Our professional team guides you according to your requirement to meet your timeless needs. We are also insurance claim experts, taking the burden from your shoulders away and giving you a lifetime customer experience.
For more information about our services, Call 703-6348544 or fill out our inquiry form.  Our team will contact you and schedule an appointment.