Why Latest Wood-clad Vinyl Windows are More in Fashion
The latest wood-clad vinyl Windows has become an essential component of the house. It adds value both practically and aesthetically. They are available in different materials, styles, and shapes and are an important part of modern architecture. All windows are the best source of natural light as well as allow fresh air to come in, overall improving the ventilation of the house.
Now a days, homeowners are willing to learn about the new and latest wood-clad vinyl windows as they are more inclined toward high-quality window material with energy-efficient features. High-quality materials include aluminum, fiberglass, and vinyl but traditional wood windows are still in fashion. Homeowners still want to add the classic look of wood windows to their interiors. But for the exterior, they want more durable, hard-wearing, and less-maintained material windows which can withstand weather changes. And that is why, wood-clad vinyl windows have become the top choice for them.
What is Clad-Window?
As its name refers cladding is adding a layer of one material over another to create an outside barrier. Cladding is placed on the side of the window that faces the outside of the house. The new wood-clad vinyl windows, also known as vinyl-clad exterior windows, feature wood interiors and a vinyl outer covering. This exterior vinyl cladding increases the window's durability and longevity while providing the interior with the desirable look of real wood windows.
Wood-clad Vinyl Windows
Wood Windows are a traditional style of windows with a natural look. They are classic, and their brown color and natural texture add warmth and natural beauty to the interior of the house. They can be customized and designed according to the aesthetics of the interior.
Vinyl is the most used building material these days. Its durability and low cost make it an alternative option for most products and windows are no different. Vinyl windows are available in different colors like white, tan, grey, shades of blue, etc. Vinyl windows are not visually attractive but their durability, moisture & rust resistance, and long life make them the best option for windows.
Wood-clad Vinyl Windows has the benefits of both the materials, wood and vinyl. And thus making it the first choice of all homeowners across the USA. In these types of windows, the interior of the window is made up of wood while the window exterior is wrapped with vinyl adding a protective layer to the wood. Vinyl Cladding prevents wood from moisture, rotting, and termite damage, providing the long-lasting resilience that your daily life demands.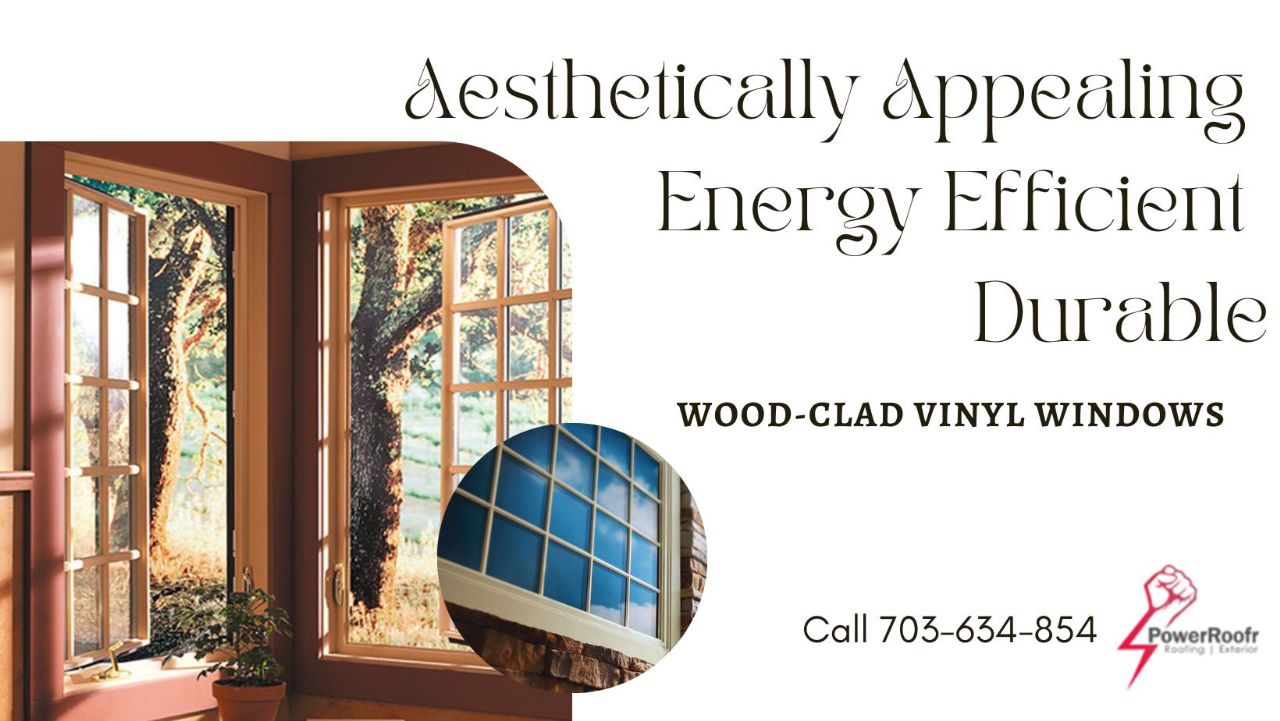 Key Features of the New Wood-clad Vinyl Windows
These modern home wood-clad vinyl windows are designed using a revolutionary technique that effortlessly combines authentic wood interiors with less-maintained vinyl exteriors. This one-of-a-kind window was created for homeowners who wish for classy wood-interior windows. Hence, appreciating the wood charm and choosing vinyl for your windows is a win-win situation because you get an attractive wood frame on the inside and a durable vinyl frame on the outside.
High Durability
Wood is a natural material that comes with its original strength and durability. But it requires care. It is also prone to rot and moisture if not maintained regularly. Considering its high maintenance cost, the latest wood-clad vinyl windows are introduced to combine the durability of both wood and vinyl. Inner window frames stay in their original condition giving a classy touch to your interiors whereas, vinyl performs best on the outside absorbing all the weather changes.
Original Wooden Inner Frames
Wooden interiors and furniture are still in fashion and appreciated by a lot of homeowners. Despite modern architecture, people still want wooden elements to add beauty to their houses, and windows with Wooden Inner Frames are one of those. The new wood-clad vinyl windows give the option to add warmth and beauty to wood in the interiors. Wooden frames can be painted but keeping them in their original color is advisable. For lighter colors, we have oak and redwood and for darker tones, we can select from cherry and mahogany.
Weather Resistant Outer Frame
Vinyl outer frames give window protection against weather elements. Vinyl frames can withstand harsh weather conditions like rain, high temperature, and UV rays. Its weatherproofing quality keeps the window free from rot and moisture.
Low Maintenance & Cost
All wooden windows are high in cost and require consistent maintenance which is tiresome for most homeowners. They are very expensive to manufacture and are being produced by fewer companies. Their upfront cost as well as installation charges are also very high. On the other hand, wood-clad vinyl windows are less costly, installation charges are affordable and readily available. They required less maintenance because of the vinyl outer frame.
Energy-Efficient Clad Window
Wood works best as an insulator. The inner wooden frame in clad windows does not allow heat to go out from the house. Thus keeping the room temperature constant and reducing energy costs. Its insulation property helps in noise reduction by limiting external noises to come in.
Aesthetically Appealing
As discussed already, the inner wooden frame of the clad window gives a traditional feel. Depending on the wood used, woodgrains and their colors give a vintage look. Whereas vinyl frames have many color options and variety to choose from. Depending on the exterior color scheme, homeowners can easily select the vinyl frames which enhance the curb appeal of the house.
Are the Latest Wood-clad Vinyl Windows the Best Option?
Considering the above key features of the latest wood-clad vinyl windows, they are the best option for those homeowners who want a low-maintenance window frame without compromising on the exceptional aesthetics of wood. This great combo of weather-resistant vinyl and the strength of the wooden frame, paired with the insulting property of both materials, has a lot more to offer.
So, are you considering wood-clad vinyl windows for your home? If your answer is YES, we are ready to assist you with your new window replacement project. PowerRoofr is the one company that provides you with a complete exterior remodeling service with top-quality service. Our window team is just one call away. Dial 703-634-8544 and get complete information.