Why James Hardie Siding is Preferable?
James Hardie is a well-known fiber cement siding manufacturer and is the No. 1 choice for contractors. James Hardie sidings give various benefits to homeowners, whether it's product durability or styling, long warranties, or safety mechanism, it has the best to offer.
Here are a few points which make it preferable among others.
Withstand Moisture
Sidings are exposed to Mother Nature and prone to environmental damage than any other part of the home. Natural events like rain, hail storm, or snow can be the main reason for sidings to swell, lose paint and crack. Therefore, do not allow moisture to penetrate and harm the curb appeal of your home. James Hardie has been a savior for many homeowners across the USA by providing well-engineered fiber cement sidings. Its fiber cement sidings withstand moisture and hold their original shape, color, and texture despite rain, sleet, and hailstorm.
Durability of Siding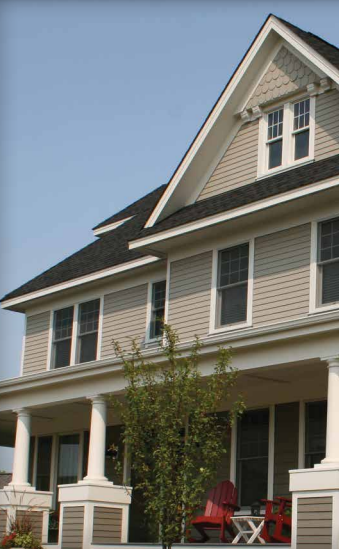 When selecting construction materials, the durability of any product comes first. James Hardie has proved over time that its fiber cement siding is the sturdiest among its competitors. Homeowners prefer these outstanding sidings because they withstand weather conditions, are not vulnerable to peeling and rotting, and are long-lasting. With years of research and study, James Hardie has developed a product that is suitable to any specific climate and its ColorPlus Technology would keep your home siding bright and fresh as ever.
Fire Resistant Sidings
Your home safety comes first. James Hardie is the first choice of the contractors because of the non-combustible property of its products.  Since vinyl and wood sidings can catch fire easily, fiber cement sidings are fire-resistant and will not burn. So for all the homeowners who have a fireplace at home or live in a place that is more prone to wildfires, James Hardie siding products are life-saving investments. Because of its non-combustible quality and ASTM rating, it can lower your insurance expense as well.
Aesthetically Appealing
Believe it or not, James Hardie has a wide range of color schemes and styles to choose from to upgrade your home exterior. Its product portfolio shows the creativity that is unmatchable by the competitors. For homeowners who want a vintage house exterior but do not compromise on durability, Hardie Plank Lap Siding can be the best option to mimic wood. Installing James Hardie in your homes not only enhances the curb appeal but also raises the resale value of the house.
Warranty
Almost 30 years of warranty is no joke. James Hardie's durability, extensive technical advancement, and continuous product improvement will make them fear less to give a long time warranty. This gives peace of mind to homeowners that they would not have to bear extra maintenance charges over the years, which is also the added benefit of using James Hardie Siding in your homes. However, they offer different warranties for specialty products.
Various construction magazines and publications backed James Hardie and so do we. Our expert team is fully trained to install James Hardie products with exact precision and accuracy. Our professional team guides you according to your requirement to meet your timeless needs. We are also insurance claim experts, taking the burden from your shoulders away and giving you a lifetime customer experience.
For more information about our services, Call 703-6348544 or fill out our inquiry form.  Our team will contact you and schedule an appointment.